150g smoked streaky bacon, chopped (or pancetta diced)
Regular price
£0.00
Sale price
£7.50
Unit price
per
800g pork sausage meat
Regular price
£0.00
Sale price
£5.50
Unit price
per
375g all butter puff pastry
2 onions peeled and diced
6 cloves garlic peeled and finely chopped
3 celery stalks, finely sliced
1/2 tsp dried chilli flakes
3 sprigs rosemary, leaves removed
Dinner
SAUSAGE PLAIT WITH FENNEL & CHILLI
Taken from my Mother's repertoire, this tart is a delicious and nutritious dish! One thing we all appreciate is how good a cook she is. This is one of her go to recipes which gets top marks every time, to which I have added bacon.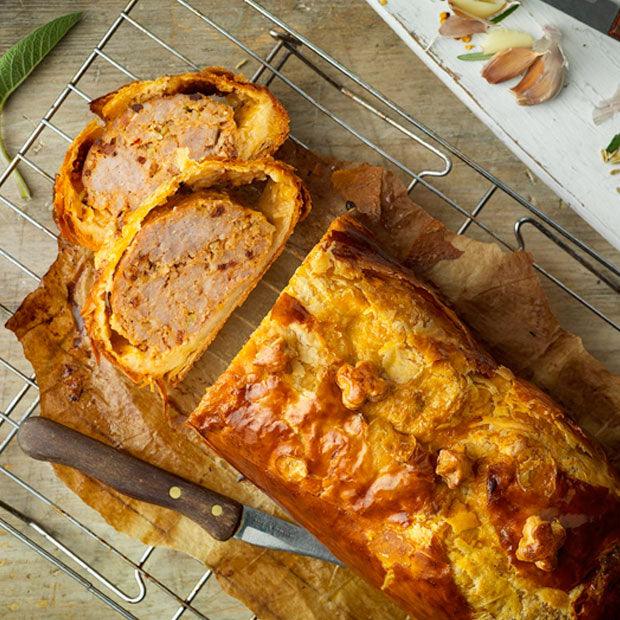 Directions
Step 1 Pre heat oven to 200'C/180'fan/gas mark 6.
Step 2 Fry the bacon until golden brown, with sticky, crunchy bits. Add onion, garlic, celery and sauté for 5 mins. Remove to bowl.
Step 3 Add sausage meat, tomato paste, dried chilli, rosemary, seasoning, oil and fennel seeds to bowl. Stir well. Mix thoroughly and shape into a large roll shape, wrap tightly in clingfilm and refrigerate for a min 4 hours.
Step 4 Roll the pastry out on a lightly floured surface so it is a quarter bigger than the roll of filling. Take the filling out of the clingfilm and place in the centre. Brush some beaten egg all around the edge of the pastry before rolling up and sealing the edges. Crimp the edges to seal and transfer to a lined baking sheet positioning the roll so it is resting on the long sealed edge. Brush with the rest of the beaten egg, decorate with any pastry offcuts and score the surface with little cuts.
Step 5 Bake in the pre-heated oven for 40-45 mins until golden brown. Remove from the oven and allow to cool on a wire rack for 15 mins before serving with vegetables. Also delicious served with salads.