1 pack of DukesHill Sliced Smoked Wiltshire Ham
Regular price
£0.00
Sale price
£7.00
Unit price
per
200g DukesHill Montagnolo Cheese
Regular price
£0.00
Sale price
£15.00
Unit price
per
Canape
SMOKED HAM AND BLUE CHEESE CROSTINI WITH POACHED BLACKBERRIES
A tasty and different canape starter that will have all guests saying "Mmm" at the complementary contrast in flavours, the perfect way to give a great impression! This simple dish is full of flavour, and perfect for a healthy and light summer starter. Created in partnership with @Into.trends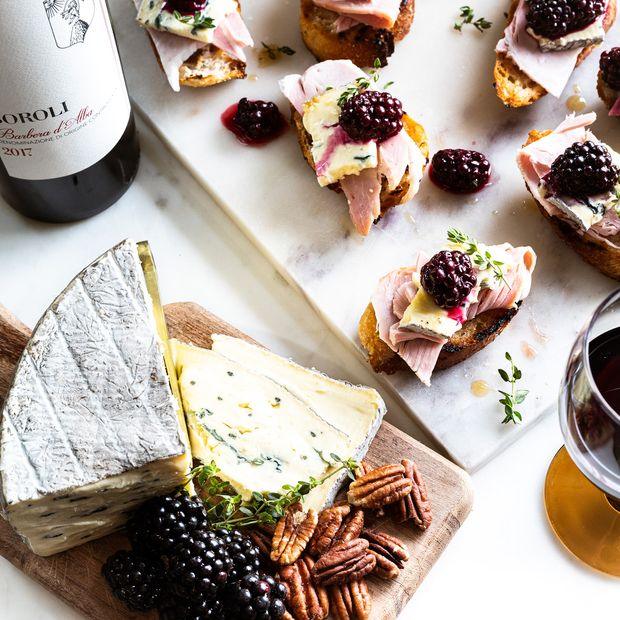 Directions
Step 1 Preheat the grill pan.
Step 2 Slice baguette into 16 diagonal slices and place onto the pan for about 2 minutes or until golden brown.
Step 3 Flip the baguette slices and grill for another 2 minutes. Remove from the pan and set aside.
Step 4 Pour balsamic vinegar into a small saucepan and stir in the sugar.
Step 5 Boil vinegar mixture over medium heat for about 10 minutes or until reduced to ½ cup. Remove from heat.
Step 6 Gently stir in the blackberries. Try to keep them from breaking apart.
Step 7 Set aside blackberry mixture to cool.
Step 8 Add 1/2 slice of smoked ham to crostini, top with slice of Montagnolo cheese followed by poached blackberry.
Step 9 Drizzle with honey and add a sprig of thyme to decorate.
Step 10 Enjoy with a glass of red wine from the DukesHill collection.