125g dry cured streaky bacon (smoked or unsmoked), chopped
Regular price
£0.00
Sale price
£7.50
Unit price
per
250g easy cook white rice (cooked according to the packet and drained)
freshly ground black pepper
drizzle of hoisin sauce (optional)
Dinner
CRISPY BACON RICE
A speedy supper dish for those times when you want something comforting and tasty but with minimal effort. Made using store cupboard ingredients with frozen peas and our dry cured bacon. Don't be tempted to use inferior bacon as you won't get the intensity of flavour during the dry frying, just horrible white, watery goo!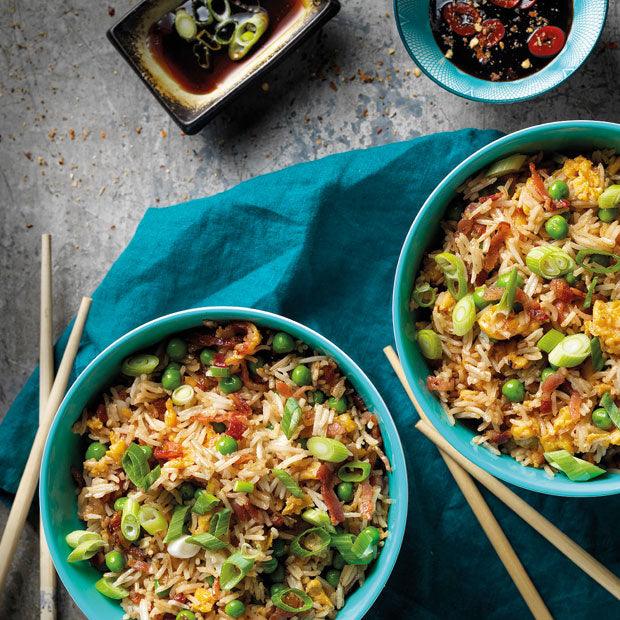 Directions
Step 1 Start by heating the oil in a heavy based pan or wok over a low heat and scrambling the eggs gently using a fork, about two minutes. Remove the scrambled egg and keep warm.
Step 2 Add the bacon to the same pan and dry fry over a medium heat for 5 mins, until crispy. Remove the crispy pieces and keep warm.
Step 3 Again, using the same pan turn the heat down to low and add the onion and cook for 5 minutes in the bacon fat. Add the peas and garlic for a further 2 minutes.
Step 4 Add the cooked and drained fluffy rice, soy and oyster sauces and stir fry for two minutes until the rice is heated through.
Step 5 Remove from the heat and stir through the egg, bacon, black pepper and spring onion.
Step 6 Finally drizzle over the sesame oil and serve with some hoisin sauce on the table to drizzle over if so desired.