4 gammon steaks (or 4 bacon chops)
Regular price
£0.00
Sale price
£6.50
Unit price
per
450g Jersey royals or baby new potatoes, halved
1 tbsp wholegrain mustard
freshly ground black pepper
2 anchovy fillets, chopped
2 tbsp capers, rinsed and drained
10g fresh dill, finely chopped
10g fresh chives, finely chopped
3 spring onions, finely sliced
Dinner
GAMMON STEAKS WITH ASPARAGUS, QUAIL EGGS & POTATO SALAD
There are so many versions of potato salad, but I love this one with the combination of asparagus and dainty, soft boiled quail eggs served with a delicious, salty gammon steak. Also good with our bacon chops or a hunk of ham or ham hock.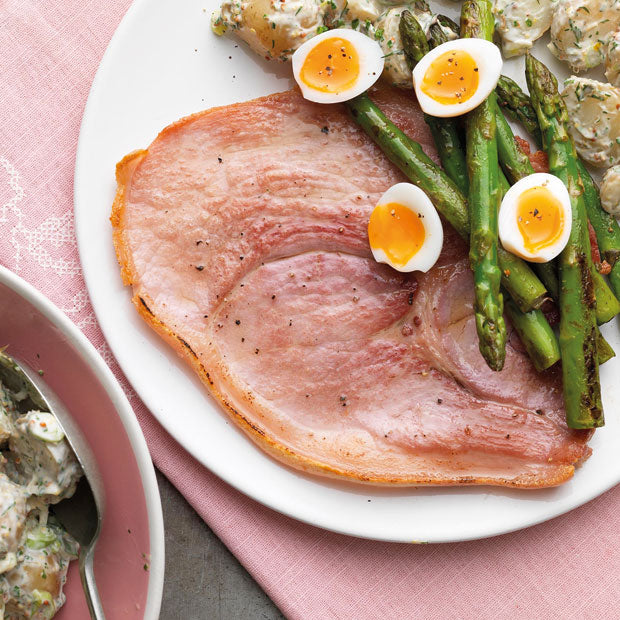 Directions
Step 1 Cook the potatoes in salted boiling water for 15–20 minutes, until just soft. Strain, run under cold water and set aside.
Step 2 Meanwhile, heat a frying pan until hot. Cook the gammon steaks for 3-5 minutes on each side. Remove and keep warm.
Step 3 Using the same pan add the asparagus with 1 tbsp olive oil and a sprinkle of sea salt and char the asparagus for 4-5 minutes, turning the spears during cooking. Remove from the heat and set aside.
Step 4 Bring a small pan of water to a gentle simmer and gently add the eggs. Cook for 2 ¼ minutes before removing from the pan and immediately plunging them into iced water. Peel and cut in half.
Step 5 Combine the dressing ingredients, reserving a few herbs to sprinkle over the top of the salad. Toss the cooled potatoes in the dressing.
Step 6 Serve each gammon steak with a large spoonful of the potato salad with the asparagus and quails eggs sitting on top. Sprinkle the salad with the reserved herbs.