Whole boneless Wiltshire Ham
Regular price
£0.00
Sale price
£85.00
Unit price
per
4 litres ginger beer, we love Luscombe's Hot Ginger Beer
1 onion, peeled and quartered
2 carrots, peeled and roughly sliced
Ginger Beer Cooked Ham
Give your ham a ginger kick with this sticky, succulent ham recipe. Cooking your ham in the best quality fiery beer infuses maximum flavour into the ham.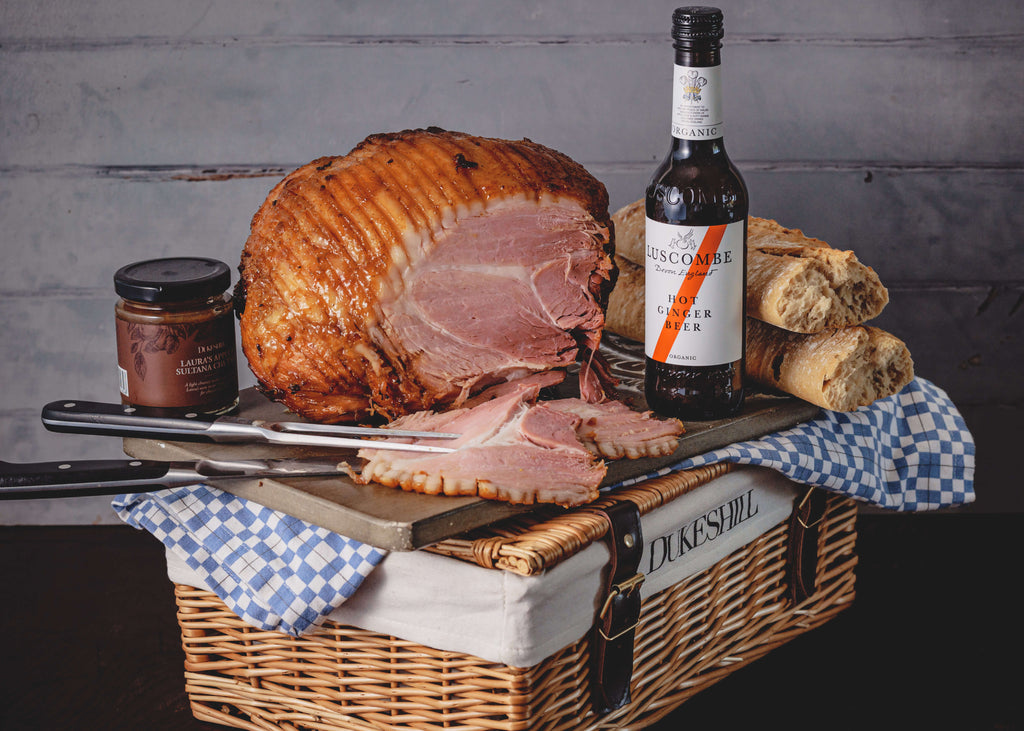 Directions
Step 1 Put the ham in a large stock pot and add the onions, carrots and spices.
Step 2 Pour over the ginger beer and top it up with enough water to cover the ham.
Step 3 Bring to the boil and allow to simmer until the ham reaches a core temperature of 75c when probed with a meat thermometer - for a 5kg ham it will take approximately 4 hours.
Step 4 Skim the scum off the surface from time to time. When it's cooked and cool enough to handle, slice the skin off the top of the ham and score a diamond pattern into the fat.
Step 5 Allow to cool before glazing.
Step 6 Preheat the oven to 190c.
Step 7 In a small saucepan, whisk together the glaze ingredients and bring to the boil. Allow the glaze to simmer until it has reduced down by two thirds, stirring occasionally. It should become a sticky syrup consistency.
Step 8 Use a basting brush to coat the glaze generously over the ham, before placing on a baking tray.
Step 9 Roast for 25 minutes but baste occasionally, using the glaze from the tray. Remove from the oven and allow to cool slightly before slicing.
Recipe Note
Wine pairing notes: Fiery ginger beer is softened out by cooking but it still adds a punchy backdrop to the cured, succulent meat. A light red such as Pinot Noir would be great here, but we have opted for a crisp white. This Macon is almost in a Chablis style, with a crisp acidity that offsets the richness of the meat and the ginger spice.Indulge in Mâcon-Vergisson Les Rochers