2 x DukesHill uncooked lamb shanks
Regular price
Sale price
£19.99
Unit price
per
1 jar DukesHill Braised Red Cabbage
Regular price
£0.00
Sale price
£9.25
Unit price
per
1 brown onion, finely diced
1 stick celery, finely diced
300ml fresh beef/lamb/chicken stock
100g savoy cabbage, sliced
Parsley to garnish (optional)
Lamb
LAMB SHANKS WITH RED CABBAGE & COLCANNON MASH
The perfect winter-warming recipe using our succulent DukesHill lamb shanks, with a side of our delicious red cabbage.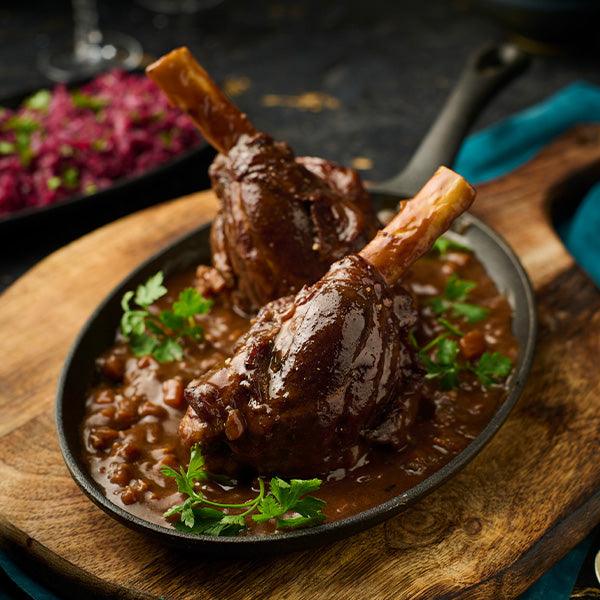 Directions
Step 1 Preheat your oven to 150C/300F.
Step 2 In a heavy based lidded casserole pot, heat the oil until smoking and brown the lamb shanks all over. The more colour you achieve here, the better the finished result.
Step 3 Remove the lamb and set aside, add the carrot, onion and celery and sweat for 10-15 mins until golden brown, add the tomato paste and cook for 3-4 mins on a medium heat.
Step 4 Sprinkle in the flour and cook for 2-3 mins on a medium heat.
Step 5 Add the red wine and turn up the heat and cook until totally reduced and nearly disappeared.
Step 6 Add the stock and place the lamb shanks into the casserole dish, giving everything a good stir and season with salt and pepper. Add the lid and place in the oven for 2.5-3 hrs, removing the casserole lid for the last 45 mins. This will thicken the sauce. Turn up the heat to reduce further or add a little water to achieve your desired consistency.