1 x 2.5kg Leg of Lamb
Regular price
Sale price
£19.99
Unit price
per
3 sprigs fresh rosemary, stalks discarded, and leaves chopped finely
2 anchovy fillets, chopped
2 preserved lemons finely chopped, pips discarded
1 red chilli, finely chopped
1 preserved lemon, pips removed, and skin and flesh chopped
20g fresh mint, finely chopped
2 tbsp white wine vinegar
Dinner
ROAST LEG OF LAMB WITH PRESERVED LEMONS & ANCHOVIES
During the cooking of this Roast Leg of Lamb with Preserved Lemons & Anchovy the delicious marinade and lamb juices mingle and transform into a rich jus, meaning there is no need to make any gravy. Delicious served with the zingy Lemon & Mint Dressing which can be made ahead. Make sure you only use the highest welfare lamb. Our British Lamb is guaranteed from animals that have been stunned, and is second to none.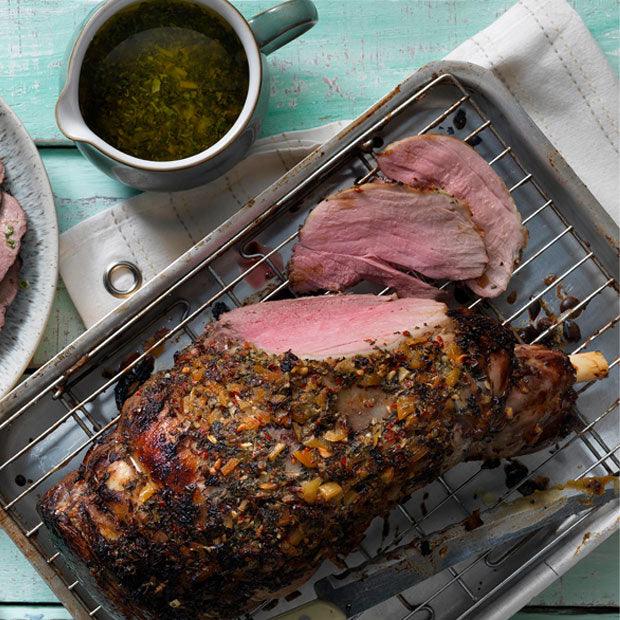 Directions
Step 1 Pre heat the oven to 200°C/180°C fan/gas mark 6.
Step 2 Score the skin of the lamb and pop skin side up in a roasting tray.
Step 3 Mix all the marinade ingredients together in a bowl and pour over the lamb, massaging it into the cuts. Cover and marinate in the fridge for a minimum one hour but preferably overnight.
Step 4 Roast the lamb for 1 ¾ – 2 hours until cooked. Remove from the oven in its roasting tray along with the juices and cover the lot with foil. Leave to rest for 15 minutes before carving.
Step 5 Meanwhile prepare the dressing by mixing all the ingredients in a saucepan and gently heating for 2 minutes to dissolve the sugar. Remove from the heat and allow to cool.
Step 6 Slice the lamb and serve with new potatoes, green beans and the roasting juices from the tray poured over with the dressing drizzled over the lamb.