2 tbsp Hollis Mead organic Greek-style yoghurt (per serving)
Regular price
£0.00
Sale price
£6.95
Unit price
per
A fistful of walnuts (rough chopped, to garnish)
dessert
Stewed Windfall Apples With Hollis Mead Yoghurt And Walnuts
A simple dessert recipe that's perfect for budding chefs, these Stewed Windfall Apples With Hollis Mead Yoghurt And Walnuts desserts are quick to make and incredibly versatile.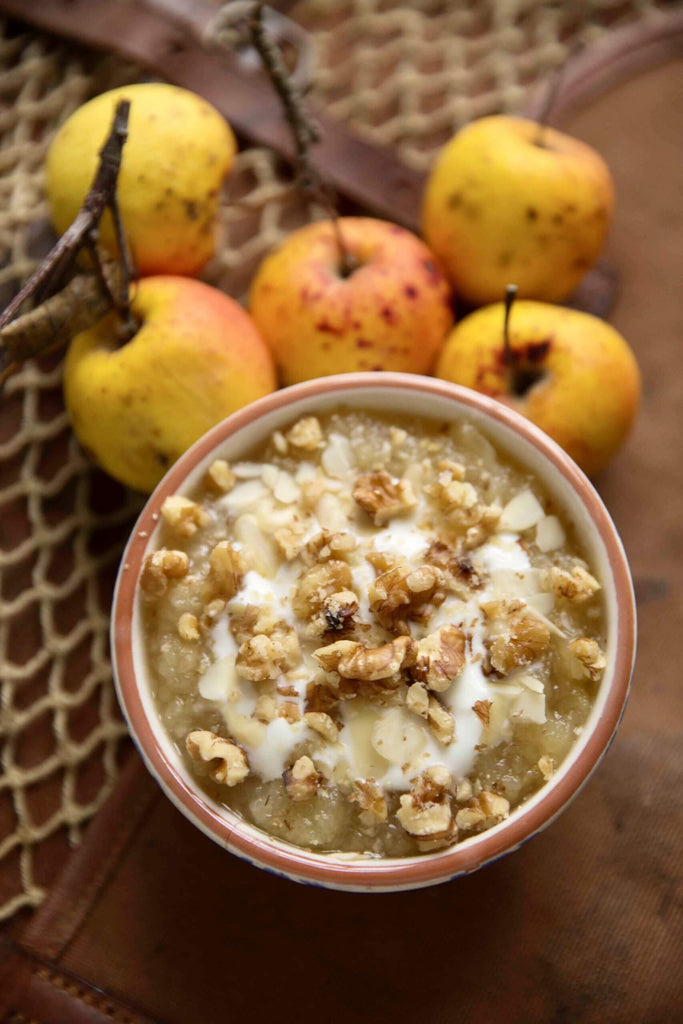 Directions
Step 1 Slice your windfalls and place in a pan with the sugar and water.
Step 2 Cover the pan and put it on the hob over a medium heat. When it comes to the boil, put the timer on for five minutes and leave to cook.
Step 3 Give your appley broth a good stir, after about four minutes the apple slices will start to dissolve into a gorgeous fluffy mush.
Step 4 Cook for a further one to two minutes or until the apple is fluffy but a few chunks are still visible.
Step 5 Taste. Add more sugar if you're not sweet enough already. Leave to cool then spoon into a bowl. Refrigerate for up to a week… if you can wait that long!
Step 6 Serve with velvety smooth Hollis Mead Organic Yoghurt and chopped walnuts for a bowl of healthy, organic, deliciousness.
Recipe Note
If you fancy it, sprinkle some ground sweet cinnamon on top along with the Organic Yoghurt and chopped walnuts. The apple mixture is also a fantastic accompaniment to sponge cakes and cheesecakes. This recipe was originally published by Hollis Mead.