80g Lomo
Regular price
£0.00
Sale price
£7.00
Unit price
per
80g Bresaola
Regular price
£0.00
Sale price
£7.00
Unit price
per
150g Wafer Thin Wiltshire Ham
Regular price
£0.00
Sale price
£7.00
Unit price
per
100g Lincolnshire Poacher (or Cheddar), cut into wedge slices
100g Comté cheese, sliced
Regular price
£0.00
Sale price
£9.50
Unit price
per
100g soft goats cheese (such as Ragstone or Pavé Cobble)
Regular price
£0.00
Sale price
£10.50
Unit price
per
1 tbsp Damson Fruit Cheese
100g/small bag of salad leaves
1 eating apple, cored, skin left on and sliced
10 walnuts, caramelised in 1 tsp sugar
freshly ground black pepper
½ tsp rosemary leaves, finely chopped
½ baguette, sliced on the diagonal into 1cm thick slices
Lunch
CHARCUTERIE SALAD PLATTER
This is a lovely way to entertain with a platter of charcuterie including our Bresaola, Wafer Thin Ham, cheeses, accompaniments and salad to share as a starter or light lunch.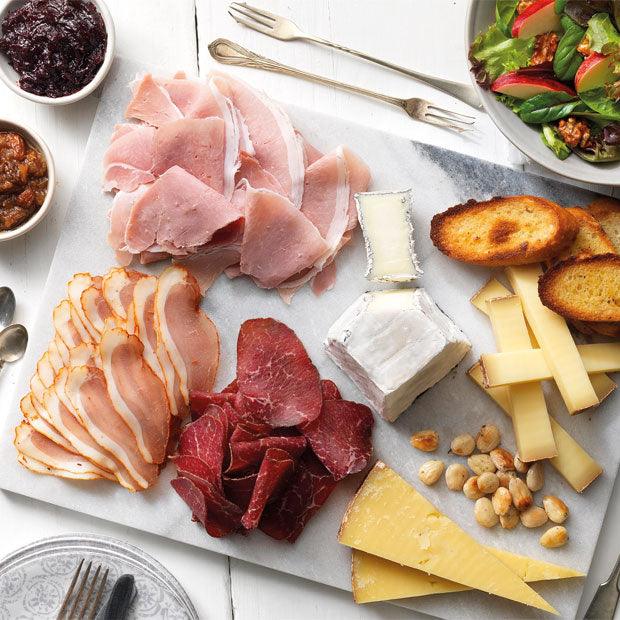 Directions
Step 1 Spread the baguette slices on both sides with the butter. Place frying pan over a medium heat and fry bread until golden and crispy on both sides, set aside.
Step 2 Using the same pan add 1 tbsp olive oil to the pan over a high heat and chuck in the almonds with the rosemary and salt. Toss over a high heat for 2 minutes or until golden then remove and put to one side.
Step 3 Using the same pan again toast the walnuts in the sugar over a high heat for a few minutes. Place salad leaves, walnuts and apples in a bowl. Whisk the remaining salad ingredients together and toss with the salad.
Step 4 Place meats and cheeses on board, add almonds, dressed salad and bread slices and serve the Damson Cheese and Fig Chutney alongside.