200g ham or ham hock, torn or shredded
Regular price
£0.00
Sale price
£4.50
Unit price
per
4 garlic cloves, finely chopped
2 echalion shallots (or ½ onion), peeled & sliced finely
10g fresh basil leaves, torn
freshly ground black pepper
50g freshly grated Parmesan
Lunch
CREAMY HAM & PEA PENNE
If you're pressed for time this Creamy Ham & Pea Penne makes a quick, family friendly supper dish. Lovely served in a big bowl for everyone to dig in, and even better it can be made using any of our ham or ham hock..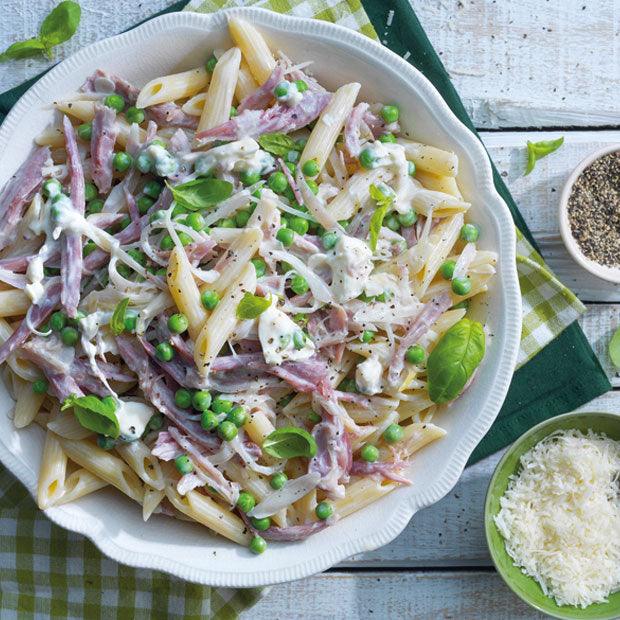 Directions
Step 1 Pop the pasta into a pan of boiling water and cook for 10 minutes, stirring a few times during cooking. Add the peas for the last 3 minutes of the cooking time. Drain and reserve 200ml of the cooking liquid.
Step 2 Heat the olive oil in a heavy based pan over a low heat. Add the shallot and cook gently for 2 mins before adding the garlic for a further 2 mins. Add the wine and simmer for 2 minutes.
Step 3 Add 100g of the cream cheese and salt to the reserved pasta water and whisk until smooth. Add along with half the basil to the shallot mixture in the pan and immediately remove from the heat.
Step 4 Add the cream cheese mixture to the ham, pasta and peas and decant to a large, warmed serving bowl. Dollop the rest of the cream cheese on top and lightly stir through leaving it roughly dispersed but not fully mixed in. Add the rest of the basil and sprinkle with the grated Parmesan. Serve immediately.