2 x 8oz DukesHill Sirloin Steak
Regular price
£0.00
Sale price
£19.00
Unit price
per
Garlic cloves (bashed but unpeeled)
For the chimichurri dressing
Juice and zest of 1 lemon
1 tbsp runny honey
Regular price
£0.00
Sale price
£9.70
Unit price
per
70g parmesan, grated into large pieces
50g pine nuts, lightly toasted
Lunch
LATE SPRING SIRLOIN SALAD WITH A TANGY CHIMICHURRI DRESSING
This fresh, spring salad is the perfect combination of rich, indulgent steak, on a bed of crisp, tangy salad. Enjoy this delicious evening meal al fresco with a glass of Cabernet Sauvignon and begin making the most of the longer summer evenings.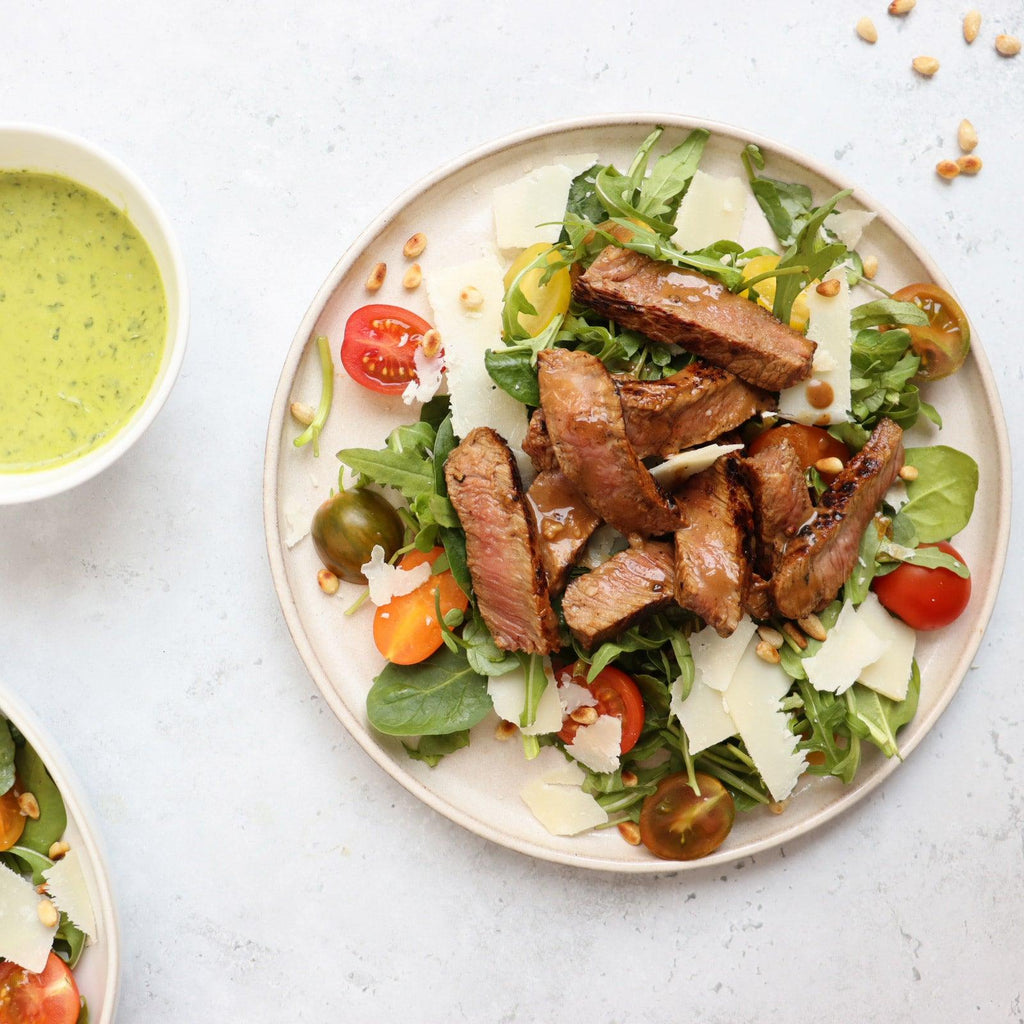 Directions
Step 1 For the dressing, add the ingredients to a food processor and blitz. Stop just before the dressing is smooth, leaving some texture in it.
Step 2 Dressing aside, it's now time to get started on the main event, the steak. Cooking the perfect sirloin is subjective to each person's tastes, however here are some of our top tips to help you along the way:
Step 3 One of the most important things to remember when cooking a sirloin steak is to make sure it is at room temperature before putting into the pan, otherwise you risk a raw middle and over-cooked outside.
Step 4 We recommend salting beforehand but adding pepper after cooking otherwise the pepper can burn and taste acrid.
Step 5 In terms of cooking oil, the best option is an oil with a high smoking point such as vegetable oil. Butter can be added after flipping for basting with, but no earlier or else it will burn.
Step 6 For a medium-rare sirloin steak, around 3.5-4cm thick, we recommend the following: Heat a heavy-bottomed frying pan over a high heat.
Step 7 Rub both sides of the room temperature steak with salt and oil.
Step 8 Add the steak to the hot pan and then cook for about 6 minutes in total, turning over every minute to ensure an even cook.
Step 9 In the last couple of minutes add a knob of butter and bashed garlic cloves to the pan and baste the steak.
Step 10 Finally, and perhaps most importantly, leave the steak to rest for at least 5 minutes before slicing and eating!