4 chicken thighs skin on (or 2 legs)
Regular price
£0.00
Sale price
£7.95
Unit price
per
4 plums, stones removed and cut into halves
1 tin chickpeas (or jar), drained and rinsed
fresh thyme, coriander and parsley chopped
Dinner
SPICED CHICKEN & PLUM WITH CHICKPEA RICE
This tasty dish of Spiced Chicken & Plum with Chickpea Rice is perfect for entertaining as it's so easy to prepare. The chicken thighs are cooked slowly with lots of lovely warming spices and plums served with fragrant chickpea rice. You can use 2 chicken legs in place of the thighs.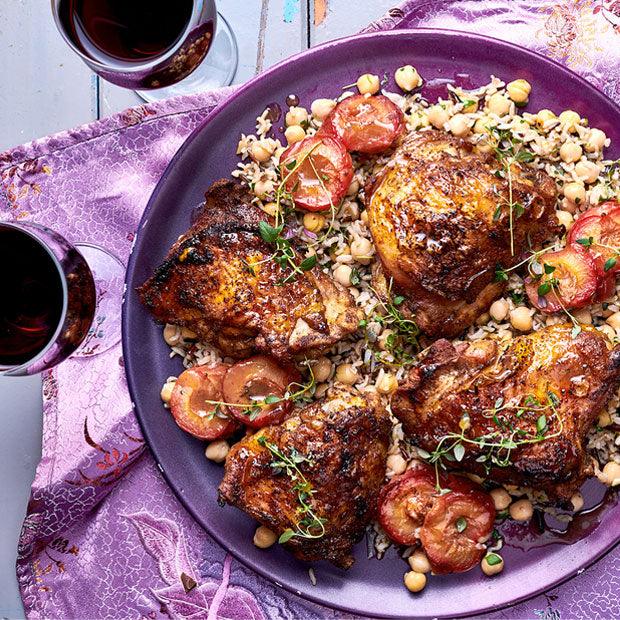 Directions
Step 1 Marinate the chicken in the lemon zest, lemon juice, salt and spices in an ovenproof dish covered with clingfilm overnight, or for a minimum 4 hours.
Step 2 Arrange the plums around the chicken, sprinkle the sugar over, then drizzle over the 3tbsp olive oil. Cover with foil and cook for 1 ½ hrs at 180'C/160'C fan/ gas mark 4. Remove the foil and pop back in the oven for another 30 minutes.
Step 3 Meanwhile cook the shallot in a saucepan in 1 tbsp olive oil over a medium heat for 3 mins until softened. Add the rice and cinnamon and stir through shallots for 1 min. Increase the temperature and pour in the stock and cook for approx. 10 mins until all the liquid is absorbed. Stir the chickpeas, seasoning and herbs through the rice.
Step 4 Serve the rice with the chicken and plums, and spoonful's of the cooking juices from the oven dish.